Wordpress
Thine – Responsive Modern WordPress Theme Full Download
Thine is a clean, modern and professional WordPress theme that is suitable for building the corporate or business websites. You can use the portfolio feature to showcase your products or works. The theme also comes with Revolution Slider plugin so you would have many possibilities to create attractive image sliders.
Another included premium plugin is Visual Composer which really is a powerful page builder. You can use it to create pages in minutes without dealing with a lot of code.
The theme already supports WPML plugin and you can easily use it for creating the multilingual site.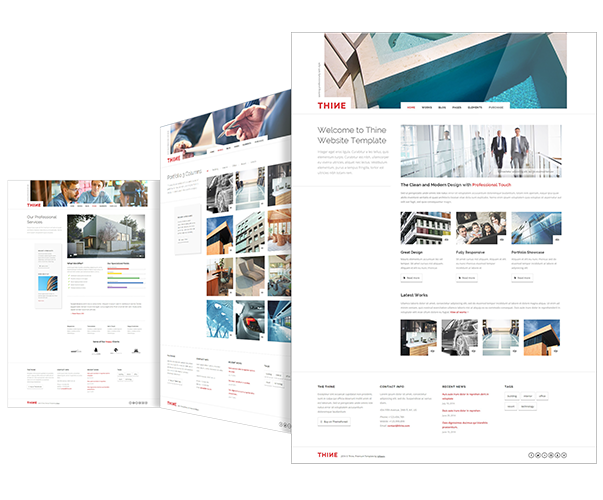 Theme Features
Clean, modern, and professional look and feel which suit most business website
Page header image or slider for attracting your visitors
Fully responsive so it will be adapted on screen to display properly on mobile devices
Powerful page builder by Visual Composer plugin so you can easily create your pages in a few minutes!
Custom post types:

Portfolio
Team
Testimonials

Custom meta info for portfolio so you can create your own list other than default "Date", "Client", and "Website"
Translation-ready using provided PO file
Multilingual support using WPML plugin
Compatible with Contact Form 7 and Gravity Forms plugin
Style Customizer with live preview
Google Fonts supported
Page custom sidebars
Many elements (shortcodes) included (please see the demo site)
Supports WP Retina 2x plugin for retina-display ready feature
Fully support Child Theme
XML dummy data file included
Extensive documentation which includes all the detailed steps for how to install the theme with tutorials
Support
We fully support operational components such as features usage, issue, bug, or the fix that are mainly related to the theme and to make the theme working properly. Please go to http://uxbarn.ticksy.com/ for our support site.
Connect with Us
Let's get in touch for the latest news and updates!
Additional Note
This theme is for self-hosted WordPress sites only (wordpress.org). It is not compatible with "wordpress.com" sites. Here are the differences between the two: https://uxbarn.com/go/wordpress-org-vs-wordpress-com/
Most photos in the live preview are not included in the package. However, we have instead created all image placeholders for you so you can quickly apply your own images to the areas.
Thank You!
Thank you so much for your interests. Your comments and ratings would be much appreciated.
Changelog

Version 1.4.1 (Apr 16, 2019)
==============================
- Update: OptionTree to 2.7.0
- Update: Rev Slider to 5.4.8.3
- Update: VC to 5.7

Version 1.4.0 (Sep 26, 2018)
==============================
- Update: Theme's Custom Heading, Icon, and Divider are all now deprecated. You can use these elements from VC directly.
- Update: Unminified some JS files that probably are the cause of the false-positive alert by Windows Defender
- Update: TGMPA script
- Update: UXBARN Testimonials to 1.0.7 (unminified all JS)
- Update: UXBARN Team to 1.1.6 (unminified all JS)
- Update: UXBARN Portfolio to 1.2.5.1 (unminified all JS)
- Update: UXBARN Extension for Visual Composer to 1.0.8 (the Icon element is deprecated)
- Update: Rev Slider to 5.4.8
- Update: VC to 5.5.4

Version 1.3.8 (Dec 16, 2017)
==============================
- Update: Rev Slider to 5.4.6.4
- Update: VC to 5.4.5

Version 1.3.7 (Sep 26, 2017)
==============================
- Update: Google Maps URL
- Update: Rev Slider to 5.4.6
- Update: VC to 5.3

Version 1.3.6 (Oct 27, 2016)
==============================
- Fix: "http" in the Flickr widget
- Fix: Media Masonry element that won't call lightbox when image gallery element is missing on the same page
- Fix: Change the "$member_image_url" var to "$image_display_size_url" in the img tag's "src" on the team single page
- Fix: Remove the sidebar area completely if there are no widgets in the area
- Update: Isotope JS in the theme
- Update: Add "portfolioid" to the slider type of the portfolio element
- Update: Change from "get_stylesheet_directory()" to "get_template_directory()" instead when loading VC templates. This will solve the issue when using child theme.
- Update: Rev Slider to 5.3.0.2

Version 1.3.5 (Sep 27, 2016)
==============================
- New: Add OT's Layout for Theme Options
- New: Option for using Font Awesome icons in the site's social icon area
- New: Custom theme's template for VC's Posts Grid element (XML file is provided in the package for import)
- Fix: Invisible clickable area in portfolio single page
- Fix: Black-and-white effect when hovering on clickable images
- Fix: Last element on a page that is floated right
- Update: Add "portfolioid", "teamid", and "tmnlid" into the class name of their elements
- Update: srcset attribute for portfolio slider and team on their single page
- Update: Code in the HTML header
- Update: Remove unused scripts and code in some part
- Update: VC to 4.12.1
- Update: UXbarn Portfolio to 1.2.2.1
- Update: UXbarn VC Extension to 1.0.7
- Update: PO file

Version 1.3.4 (Aug 16, 2016)
==============================
- Add a new option for users to add their own Google Maps API key in Theme Options
- Remove some image sizes of the theme
- Update UXbarn VC Extension to 1.0.6
- Update Rev Slider to 5.2.6
- Update PO file

Version 1.3.3 (Jul 1, 2016)
==============================
- Enabled VC Frontend Editor
- Moved all "vc_map" for UXbarn VC Extension plugin to functions.php and use "vc_before_init" hook instead
- Changed how style.css of the parent theme is loaded
- Updated TGMPA to 2.6.1
- Updated text domains in the theme to use only "uxbarn" 
- Updated PO file
- Removed "_deprecated_visual-composer" folder
- Added "Vietnamese" to the Google character set

Version 1.3.2 (Jun 21, 2016)
==============================
- Fixed a bug in Google Fonts URL encoding
- Updated VC to 4.12
- Updated Rev Slider to 5.2.5.4

Version 1.3.1 (Apr 16, 2016)
==============================
- Fixed the lightbox code by replacing "rel" with "data-rel" in the theme JS file
- Fixed CSS of loading icon in the header area when viewing on retina devices
- Enabled the import/export functionality of the OptionTree plugin
- Updated "sanitize_callback" of Custom CSS field to fix the line break removal
- Updated VC to 4.11.2.1
- Updated Rev Slider to 5.2.4.1
- Updated PO file

Version 1.3.0 (Mar 12, 2016)
==============================
- Made the Google Fonts subsets visible in VC Settings.
- Fixed the CSS of image overflow issue on Firefox.
- Fixed "registerFancyBoxToWPImage()" in thine.js.
- Fixed the code of calling Fancybox for VC media grid element.
- Updated the "Back" word of mobile menu to be able to translate via PO file.
- Implemented a new theme update feature. (You can read more in the documentation.)
- Updated TGMPA class with a new multiple plugin update feature.
- Updated VC to 4.10
- Updated Rev Slider to 5.2.1

- Updated UXbarn Portfolio to 1.2.1
     - Updated the code to display category checkboxes vertically with subcategories.
     - Changed the action of loading element to "vc_before_init".
     - Updated the code to get the list of categories.
     - Changed how the meta boxes are loaded in separate functions.
     - Updated the shortcode output to use "vc_map_get_attributes()".
     - Updated the custom code in the theme.

- Updated UXbarn Team to 1.1.5
     - Fixed the WPML comparison operator.
     - Changed the action of loading element to "vc_before_init".
     - Updated the code to get the list of team members.
     - Changed how the meta boxes are loaded in separate functions.
     - Updated the shortcode output to use "vc_map_get_attributes()".
     - Updated the custom code in the theme.

- Updated UXbarn Testimonials to 1.0.6
     - Fixed the WPML comparison operator.
     - Updated the code to display item checkboxes vertically.
     - Changed the action of loading element to "vc_before_init".
     - Updated the code to get the list of testimonials.
     - Updated the shortcode output to use "vc_map_get_attributes()".
     - Fixed "Fatal error: Call to undefined function uxbarn_get_array_value()".

- Updated PO file.
- Updated documentation.

Version 1.2.1 (Jan 13, 2016)
==============================
- Added a link to an input URL (that starts with http for example) in custom meta info of portfolio
- Updated the code from "uxbarn_get_final_post_content()" to "the_content()" instead in "page.php" 
- Updated the code from "shortcode_exists()" to "WPBMap::exists()" instead in "custom-vc.php" 
- Updated VC to 4.9.2
- Updated Rev Slider to 5.1.6
- Updated UXbarn Team to 1.1.4
- Updated UXbarn Testimonials to 1.0.5

Version 1.2.0 (Oct 7, 2015)
==============================
- Added custom meta info feature for UXbarn Portfolio.
- Fixed custom CSS for Rev Slider.
- Updated Isotope JS of UXbarn Portfolio to v2.
- Updated Style Customizer code by removing "priority", JS preview, and some CSS output for new VC elements.
- Deprecated custom code for VC elements so you can now fully access to most VC elements.
- Updated TGMPA class
- Updated VC to 4.7.4
- Updated Rev Slider to 5.0.9
- Updated UXbarn Portfolio to 1.2.0
- Updated UXbarn Team to 1.1.3
- Updated UXbarn Testimonials to 1.0.4
- Updated UXbarn VC Extension to 1.0.5
- Updated Foundation CSS and JS files
- Updated the files in "/For Import" folder.
- Updated doc.
- Updated PO file.

Version 1.1.1 (Jun 17, 2015)
==============================
- Updated VC to v4.5.3 (plugin package, theme-functions.php, custom-vc.php)
- Updated Rev Slider to v4.6.93 (plugin package, theme-functions.php)

Version 1.1.0 (Apr 30, 2015)
==============================
- Added Ionicon 2.0 (assets.php)
- Fixed style customizer output (output.php)
- Fixed google map code to also check the "google.maps" object to prevent some random JS error (thine.js)
- Fixed a bug of testimonial thumbnail z-index not correct on tablet size (thine.js, thine-responsive.css)
- Fixed portfolio element's CSS about the anchor tag on title that is not working on IE (style.css)
- Updated the code to load CSS of "uxbarn-theme" and "uxbarn-theme-responsive" right after "on-demand" asset loading (assets.php)
- Updated VC to v4.5 (plugin package, theme-functions.php, custom-vc.php, assets.php)
- Updated Rev Slider to v4.6.91 (plugin package, theme-functions.php)
- Updated TGMPA class to v2.4.2 (class-tgm-plugin-activation.php, tgmpa.css, assets.php)
- Updated PO file

Version 1.0.1 (Dec 24, 2014)
==============================
- Dropped the use of "uxbarn_get_html_validated_content()" and use "balanceTags()" instead (theme-functions.php, template-intro.php, footer.php)
- Updated VC to v4.3.5 to support WP4.1  (plugin package, theme-functions.php)
- Updated Rev Slider to v4.6.5 (plugin package, theme-functions.php)